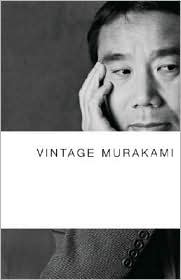 Vintage Murakami
Haruki Murakami
(Vintage Books, USA: 2004)
Includes the opening chapter of his novel
Norwegian Woods
; "Lieutenant Mamiya's Long Story: Parts I and II" from his novel
The Wind-Up Bird Chronicle
; "Shizuko Akashi" from his non-fiction book on the 1995 Tokyo subway attacks,
Underground
; and the short stories, "Barn Burning", "honey pie", and "ice man".
READ: March 2007
Reading this collection of works from Murakami, who is apparently one of Japan's top contemporary authors, was a bit of a tease. I'd just start getting into a story when it would end, leaving me wanting more. Luckily, many of these stories are, of course, parts of longer novels, and so someday, more I can get!
His style is sparser than I normally like (sometimes I wonder if that's more of a translation thing, though I guess the trick to being a good translator is to use a style consistent with the author's style in their original language), but they are interesting and insightful. The excerpts from
The Wind-Up Bird Chronicle
in particular still leave me shuddering while thinking about them late at night (almost a month after I finished reading the book!), and I may definitely have to read that entire book someday, if none other, in order to exorcise those memories.